Tasting Calendar
Wine Reviews
Wednesday Wine Tasting
Our Wednesday wine educational tastings are held every week at 7pm.
These tastings are hosted, informal, seated tastings with hosts including Kingsley Wood, Andrew Rawlins & Wine Orbit's Sam Kim, or on occasions, visiting winemakers and Masters of Wine. Most of the time the wines are tasted blind. Expect to have a few laughs at these tastings – you will not only learn a lot about wine, you will have fun at the same time.
There is no requirement to book for our Wednesday Wine Tastings and the cost is usually $20 per person unless otherwise stated.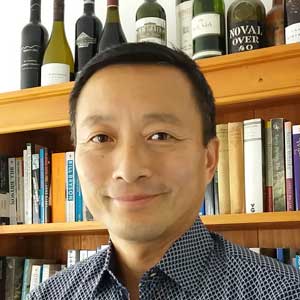 Senior & International Wine Judge, Sam Kim is a regular presenter at Fine Wine Wednesdays
www.wineorbit.co.nz
Wine reviews from our Wednesday Wine Tastings.
Every week we sample and taste dozens of wines at First Glass. Many of them are samples that have been provided by wineries for assessment, others are opened and poured at our Wednesday or Saturday tastings. The following reviews are based on how we found the wines on the day or evening. On occasions the review is made on a single bottle but at the Wednesday tasting there will usually be 3 or 4 bottles of each wine opened. Clearly wines will taste differently, depending on the various circumstances but as the views of a number of people are considered, the comments do not become the opinions of just one person. Many of the wines are stocked by First Glass, others are wines that may be considered for stocking at a future date.
Saturday Challenge
For those who like wine options, we open three wines every Saturday for you to practice your wine options skills.
You can call into the shop anytime between 9 a.m. and 6 p.m. to test your skills and there is no charge for this. All the names of the people with the correct answers are put into a draw and a winner is announced at the following Wednesday Wine Tasting.
The lucky winner receives a bottle of each of the three wines as their prize.